Solution Plumbing provides 24 hour residential and commercial plumbing services to customers throughout the Cypress, TX area.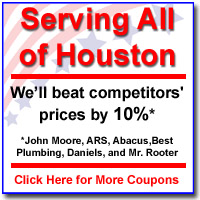 No Job Too Big or Small
Solution Plumbing's licensed plumbers can diagnose and repair nearly any residential, industrial, or commercial plumbing you may have:
Toilet, Faucet, and Fixture Repair
Leaks and Clog Repair
Commercial and Industrial Plumbing Services
Complete Support for Mobile Home Systems
Inspection and Repair on Under House Breaks
Our Service Continues up to the Sewer Line with Cutting Edge Camera Inspection
We can service the plumbing for any building type including:
Homes
Apartment Buildings
Office Buildings
Multi-Story and Highrise Buildings
Shopping Centers
Industrial Facilities
Parks and Rec Facilities
Mobile Homes
Restaurants
24 Hour Plumber in Cypress, TX
Call 24 hours a day, seven days a week, for a solution to any size commercial or residential plumbing project. You will get a licensed professional Solution Plumbing plumber to help solve your problem with honest and fair prices.
And, there are no special charges for after hours calls.
Estimates are FREE so call us at (281) 259-8186 or complete the form on this page and a licensed Cypress plumber will visit your home or business quickly to provide a free estimate — the best price available — to repair your plumbing situation.
Cypress Tank And Tankless Water Heaters – Electric And Gas Repair and Installation
Solution Plumbing provides free water heater inspections. We also service, repair, and replace electric and gas tank (traditional) and tankless water heaters in Cypress, TX.
After a free water heater inspection to diagnose the problem, we will provide you with a quote to help you decide if a new unit would be more cost efficient in the long run or if a simple repair will suffice. We can also help you decide which would be the best type of water heater for your home or business needs.
Cypress Plumbing Services
Choose Solution Plumbing for all your business needs. Call us today at (281) 259-8186 for residential or commercial plumbing services in Cypress, Texas!
We are here to help and happy to serve Cypress, TX 77429, and 77433.