We inspect, replace, and repair sewer lines for homes and businesses throughout Houston and the NW Houston, Hockley, Waller, Cypress, Tomball, The Woodlands, Magnolia and Pinehurst regions.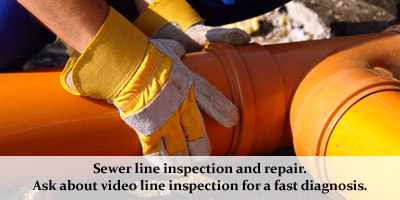 The first sign of sewer line trouble could be something as simple as a slow drain or toilet flush or could be as dramatic as a cracked foundation.
Waiting usually only allows the problem to get worse, cause more damage, and become more expensive.
It's important to have a professional assess the situation and perform a complete sewer line inspection at the first sign of sewer line problems.
Call Solution Plumbing at 281-259-8186 or 281-351-2544 or complete the contact form to schedule a free Cypress sewer pipe inspection.  Need Immediate Service?
Video Sewer Line Inspections
For an ultra-fast and accurate diagnosis of your sewer line problem, we provide sewer video inspections in Cypress and Northwest Houston suburbs.
Using the neweset sewer pipe video inspection equipment, we can look inside your plumbing and sewer lines to see the exact problem and immediately determine the best solution.
A video pipe inspection saves time and money by reducing time and labor spent digging up pipes and trying various old-school methods to find the problem.  Learn more about sewer video inspections.
Free Estimates
Depending on the problem and the location of your lines, sewer pipe repairs can be as simple as snaking or vacuuming out the line or as involved as a partial or complete line replacement. Solution Plumbing's experienced plumbers will quickly diagnose the problem, explain the solution options, and provide you with an estimate.
To Order Sewer Line Inspections or Services
Call Solution Plumbing at 281-259-8186 or 281-351-2544 or complete the contact form on the left to schedule your sewer line inspection and/or sewer pipe repair or cleaning.