Solution Plumbing provides complete plumbing servies for you residential and commercial plumbing needs in Magnolia, TX and NW Houston suburbs.
Solution plumbing is available for repairs and services 24 hours per day, and you can always count on professional and courteous service at affordable prices.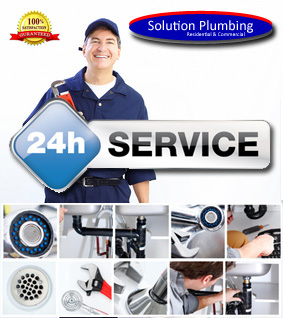 Full Service Magnolia Plumber
24 Hour Plumber in Magnolia
We can handle any size commercial or residential plumbing project anywhere in the Magnolia area. A licensed professional Solutions Plumbing plumber will provide affordable service to you 24 hours a day, 7 days a week.
Call 281-259-8186 or 281-351-2544 now or learn more about emergency plumbing services.
Free Estimates
We provide free estimates, so call us at (281) 259-8186 or contact us online to get your plumbing problem taken care of quickly by a licensed Magnolia plumber.
For fast plumber service 24 hours a day, 7 days a week call 281-259-8186 or 281-351-2544 or complete the contact form on this page.
Magnolia Tank And Tankless Water Heaters – Electric And Gas Repair and Installation
Solution Plumbing provides free water heater inspections. We also service, repair, and replace electric and gas tank (traditional) and tankless water heaters in Magnolia, Texas.
After a free water heater inspection to diagnose the problem, we will provide you with a quote to help you decide if a new unit would be more cost efficient in the long run or if a simple repair will suffice. We can also help you decide which would be the best type of water heater for your home or business needs.
Magnolia Plumbing Services
Choose Solution Plumbing for all your business needs. Call us today at (281) 259-8186 for residential or commercial plumbing services in Magnolia, Texas!
We are here to help and happy to serve Magnolia, TX 77353, 77354, and 77355.