Water heater repair, installation, inspections, and replacement in the Magnolia, Texas area.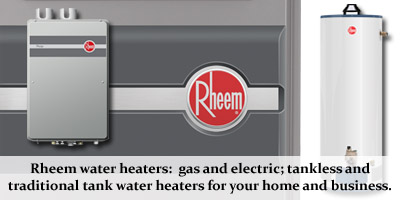 Call 281-259-8186 or 281-351-2544 or complete the contact form to schedule an appointment.
Tank & Tankless Water Heaters — Electric & Gas
We service, repair, and replace electric and gas tank (traditional) and tankless water heaters.
After a free water heater inspection to diagnose the problem, we'll provide a quote to help you decide if a new unit would be more cost efficient in the long run or if a simple repair will suffice. We can also help you decide which would be the best type of water heater for your home or business needs.
Free Water Heater Inspections
Your Magnolia water heater inspection and quote is free.
Vans Stocked For Immediate Repairs
Most parts on a water heater can be repaired or replaced, so we keep most of the parts needed for typical repairs in our vans. Because the parts needed are usually with us we can provide a service quote and — with your approval we will can often fix the problem immediately.
To Order Water Heater Service
For fast service 24 hours a day, 7 days a week, fill out the contact form or call 281-259-8186 or 281-351-2544. We service Magnolia, TX, Cypress, Tomball, The Woodlands, Hockley, Waller, Pinehurst, and the surrounding