Call (281) 259-8186 or (281) 351-2544 for repairs and services 24 hours per day.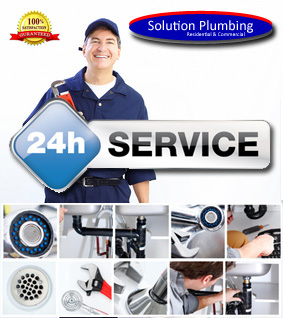 Solution Plumbing answers emergency calls 24 hours a day, 7 days a week, and we treat you like family. Your plumbing emergency becomes our emergency until it has been quickly, safely, and affordably resolved.
Solution Plumbing offers affordable Tomball emergency plumbers for all home and business plumbing needs including:
Leaks
Clogs
Toilet Repairs
Water Heater Issues
Gas Line Leaks or Repairs
Backed Up Sewer Lines
Frozen Pipes
Broken Pipes
ANY PLUMBING PROBLEM
Call 281-259-8186 or 281-351-2544 for fast emergency plumber services anywhere in in Tomball and the Houston Metro region.
Areas Served for Emergency Plumbing
We provide emergency plumbers for Tomball area and other NW Houston suburbs including:
Cypress
Spring
The Woodlands
Hockley
Magnolia
Plantersville
Pinehurts
Waller
Copperfield
Our vans are stocked and ready to repair emergency plumbing issues for homes and businesses.
24 Hour Plumber in Tomball
We can handle any size commercial or residential plumbing project. A licensed professional  Solutions Plumbing plumber in Tomball will provide affordable service to you 24 hours a day, 7 days a week.
Call us at (281) 259-8186 to order your emergency plumber service now.
Enjoy Our Emergency Plumber Story Video
Emergency Plumbing Tips to Reduce Damage
Here are a few tips to minimize damage before your plumber arrives.
Leaky Faucet or Toilet — Close the valve to the faucet or toilet. Faucets have 2 valves under the sink that allow you to turn off the water (one for hot and one for cold).  Turn them both clockwise until they are closed (until they stop turning easily).  Toilets have a valve behind them — usually similar to the valve for faucets — which you can turn clockwise to shut off the water to the toilet.  If that does not work, you might need to turn off the water to the house…
Leaking from Within Wall or Under Floor — Turn off the water to the house. If you have a gushing leak, you can save yourself a lot of clean up and water damage by turning off the water to your home. The shut-off valve should be right outside your home and often looks just like the valve on your water hose spigots. Alternatively, you may be able to shut the valve at the city's connection.
Protect Wood and Drywall from Water Damage — You probably already know that water can quickly and severly damage wood floors and drywall.  Try to dry areas affected by the leak as soon as possible.
Avoid Flushing Toilets — If a toilet is leaking, if facuets or toilets are backing up, or if water seems to be coming from the floor or baseboards, avoid flushing toilets until we can diagnose and repair the problem.  There may be a clogged pipe or sewer line causing water to leak out.
Clogged Garbage Disposal — Don't put anything else in and KEEP YOUR HANDS OUT OF IT.  Keep the start switch turned to the off position.
Avoid Electrical Hazards — If there are exposed wires or electrical appliances near water puddles or leaks, AVOID THE AREA. It's not worth it.