Toilet repair and replacements in Tomball, TX
We provide toilet installation and maintenance services for home and business clients in the Tomball, TX area.
Call Solution Plumbing at 281-259-8186, 281-351-2544 or complete the contact form for a free estimate.
Common Toilet Problems
The most common toilet problems are clogs, leaks, and backups.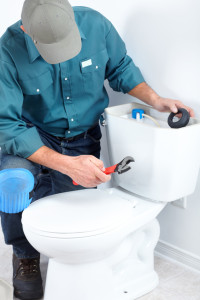 Clogged Toilets
Clogged toilets are annoying, inconvenient and messy. Flushing improper items down the toilet is the main reason for a clog, as well as the buildup of minerals over time. If using a plunger does not remove the clog, you may have a more serious issue, such as pipe damage or even a clogged sewer line.
Toilet Leaks
Leaks can happen from multiple places around a toilet — inside it, from the seal where the toilet is mounted on the floor, or from the tubes and fittings that come from the wall. We fix all toilet leaks for homes and businesses.
Toilet Backups
The messiest of all toilet problems, a backed up toilet may mean there is a larger problem with your pipes or sewer line. It could also simply mean you have a very bad clog which needs to be removed with a hydro-jet.
Free Estimates
Our professional plumbers will inspect your toilet and pipes, and provide you with a free quote and help decide on a course of action to repair or replace your toilet.
All toilet inspections and quotes are free.
To Order Toilet Services
Call Solution Plumbing in Tomball at 281-259-8186, 281-351-2544 or complete the contact form to schedule toilet repairs or replacements or to ask questions. .